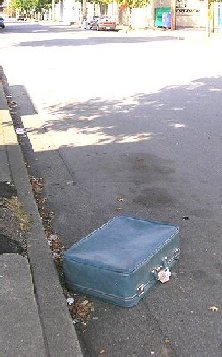 Every year there are thousands, maybe hundred of thousands, of people who lose their luggage and have their holidays ruined as a result. To avoid this risk is impossible, unless you want to wear everything you own onto the plane – and even then airport security might object! But there are some things you can do to minimise your risk and they include inspired T-shirt packing. 
Before you even travel, check the long range weather forecast for where you're going and try to check the forecast for the same period in the previous year – that helps you see what the likely temperatures and meteorological conditions might be.

Look back at what you wore last time you took an annual holiday. List the items you packed, and then remove any you didn't wear.  That's all you need to pack this year, and it's usually a lot less than you pack!

Pick two key items – for women this could be two long cotton dresses that can be worn over swimwear or T-shirts in the day and with a shawl in the evening. For men this could be two pairs of trousers, one smart, one casual.

Put one key item in your carry-on and the other in your hold suitcase. Now divide the rest of your clothing – two lots of underwear, one lot of swimwear and one good T-shirt in your carry-on, everything else in your hold case.  This means that you have a change of clothes and two changes of undies which should be enough to get you through three days if your case is delayed in transit.
To travel, wear a long sleeved T-shirt over a short-sleeved one, your most comfortable shoes and your most comfortable. That way you have two more changes of clothes to wear if the hold case disappears. Voila, five days clothing! And even if your case never turns up, you've got just enough to wash and wear through a fortnight's holiday or until your insurance company coughs up to buy some more holiday togs.
Lost luggage courtesy of squeaky marmot